Another week at home for the Boonie Babies ... but we're surviving. :)
br />
This week we had lots of fussing from a certain blue eyed, blonde-haired boy whose name rhymes with Dalton. He's just uncomfortable, sick, and not so happy. We're missing our friends, quiet time, and for sure Mothers Day Out!
However, we had some moments I don't want to forget too... Here goes it:
Last Friday night my mom took D home and Aaron was umping. Avery wanted to have a picnic and I loved an excuse not to cook, so I made us PBJ's and we were going to picnic in the living room and watch a movie ... While I was packing up our "basket" I came in to discover she had set up the umbrella and she and Sawyer were laying under it. Made me laugh!
Dalton has started saying whenever someone wakes up in the morning or after naps, "Good Morning!" in the most precious, innocent, high-pitched voice you've ever heard. It's presh.
Saturday afternoon was beautiful and we were laying outside. I looked over and Avery was saying, "He loves me, he loves me not" plucking petals off flowers.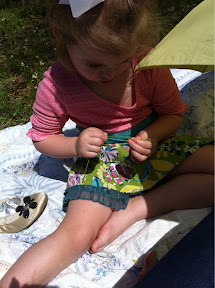 One day this week Dalton had barely been up 30 minutes and said, "Momma, can I have a jar of peanut butter and a spoon?" I told him no, and laughed. Then he said, "Okay, can I have some in a bowl with a spoon?" I still need to ask Aaron if he lets them do this? Where did that come from!
On a particularly b-a-d day this week (Tuesday) I was seriously feeling like it was THE end of the world. No, really. Like I was the old woman in the shoe, and I truly didn't know what to do with all these sick kids! I mean .... wow. Anyway, after crying at the kitchen table I asked Avery if she'd say her bible verse from a few weeks ago for me (Psalm 121-1-2). I thought maybe hearing her say it would help it sink in a little better. So she started, "I lift my eyes up to the mountains, where does my help come from? My help comes from the Lord, the maker (then she started stumbling and looking around) the maker, the maker ... The maker of South America." I busted out laughing, told her she and Miss South Carolina would probably get along great, and definitely felt better. Love. That. Girl.
I love that when Dalton is huffy he sits down crosses his arms and softly pats himself ... like drumb his little hands on his arms. Obviously he's being frustrated and angry. But it's way cute.
Sawyer has been eating better now that I'm "making" (ahem, mashing up steamed veggies/fruit!) He loves it! Here he is having some bananas this morning. He's the sweetest things and can hardly even eat because he's so happy and keeps laughing. Mmmm, I love that boy.
I love that he's trying to reach around the camera to see me since it's hiding my face. He thinks we're playing peek-a-boo.
He's looking for his next bite that I'm stirring in his bowl.
I think it's so funny that when A and D play hide and seek outside they pretend like they don't see each other and continue the game like an adult would do when a child is in an obvious spot. "Hmmm ... where's Avery ... I just don't know!" :)
Avery was watching Super Why yesterday and I think it said something about jumping into the TV, and she said ... to the TV, "Oh no, we cannot jump into the TV; Our daddy will miss us if we jump into the TV."
I think several people in my family would compare me to the Princess and Pea. I am obsessed with comfy beds. I love super soft sheets, my fabulous mattress we splurged on last year and tons of pillows ... mmmm. Last night I kept rolling over and finding where Dalton had hidden several small animal toys under my feather bed thing ... Not happy. But everytimes I fished out another wooly mammoth, white tailed deer, or kangaroo I laughed. Even at 3am.
Yesterday, my mom came to help with the bambinos. She took A to Target to get some happies. She came back armed with dry erase boards, movies, several toys, and all the fixin's to make cupcakes with. We made the cupcakes this morning and of course the kiddos love cooking/baking anything!!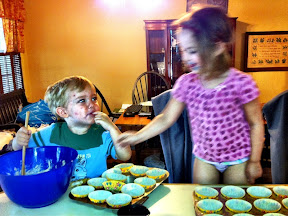 Maybe next week we'll get to blow this joint for some more fun moments!
Hope you have an Unforgettable Friday! :)