Today we went to a park with some friends. It was spur of the moment thing, which is always my fav. :)
Sawyer loved rolling around in the sunshine, under a big shade tree.
The child spent an hour trying to eat one of those popcorn balls. He had two new toofies come in this week, so maybe it felt good. ;)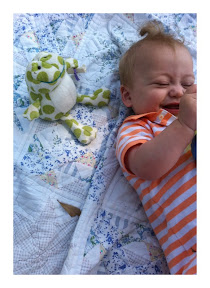 Quite possibly one of my fav pics of him to date. Oh, I just love him to death.
While Sawyer and I were lounging on the blanket my two girlfriends took Dalton and Avery with their boys, down to a culvert/creek thing to throw rocks in. A few minutes later Stacy came up the hill to say, "Theoretically, if Dalton fell in, would you have more clothes for him?" Which really meant, "your kid is now naked wading in the water." Which then meant ... photo opp. Duh.
Oh my. I laughed and laughed and laughed. And yes, I'm totally aware that it's indecent, kinda weird and possibly illegal. But, they all wore themselves out, went straight to sleep, which means I get a nap too. :)
Zzzzzzzzzz......
- Posted using BlogPress from my iPhone