Life in the Boonies is always entertaining ... Here are some Unforgettables from the week ...
All in all this was a crazy week ... There were tons of storms creating all sorts of tornadoes in the south. Overall I think over 300 people were killed in the storms. We spent a couple nights of storms at our house and then made the trek to my parents for the third night ... Lots of time in the hidey holes ...
Also, I have to make note that Prince William and Catherine Middleton were married today!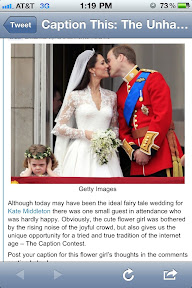 Sawyer woke up at 4:55 which was perfect timing to see Kate climb in the car taking her to marry the prince. I watched the whole ceremony and I loved it!
Avery woke up and watched it with me. She was so excited. A lady came to the door while we were watching and she rannnn to the door to screaming, "We're watching the Princess get married!!" She loved it!
Lately when Dalton tries to get in a door he starts huffing and puffing "to blow the door in." :)
When I woke Avery up for school on Monday (the day after Easter) she sighed and said, I really want the Easter Bunny to come back. I didn't even get to meet Mrs. Easter Bunny."
Sawyer is still trying to maneuver all this crawling business ... Here he is stuck in the corner.
Ill find him just SQUEALING!!
Or, under the table ...
Avery asked me for some leftover meatloaf the other day and said, "oh please Mama, I'm the meatloaf princess."
I got gas a couple days ago and it just kept going and going and going. I'm posting this in hopes that I never see this again ... Agh!
After all the tornado sirens started this week Dalton looked at me and whispered, "Mama I hear wolves."
Avery is turning f-o-u-r next month ... I can't even talk about it. But, Sarah Baker was asking her what she wanted for her birthday and she kinda shrugged her shoulders and said, "I really want some new strawberry sparkle shoes." (Lelly Kelli's with strawberries) SB said, "SHOES?? That's it! Avery, come on, dream a little bigger." I'm not kidding ... Or exaggerating- Her eyes got HUGE, she stood up on the couch and excitedly said, "okay, I want a Rapunzel tower, with a boy and her mother, and a boat, and water, and a frog and a big door and, and, and!!" We died laughing. We told her to dream big though!
I have to include this little pic of them heading to school Monday ... Love them so.
SB and I were talking the other day and Avery came in and said, "yeah, It's the p-o-u-n-s-t-u." obviously that doesn't spell anything- but she always hears me spelling things. Cutie.
And last but not least we were getting A and D ready for bed tonight and Avery was really fussy. Finally she stepped on a sticker that really hurt her little foot and she looked up and Sarah Baker, stamped her foot and cried, "I am NOT having a good day!"
Hope your Friday was unforgettable!
- Posted using BlogPress from my iPhone