I have so wanted to be better at blogging this year but I've just failed miserably ... I'm sure it has nothing to do with all these dang kids I've been having. HOWEVER, I'm thinking about a peace offering ... A Year in Review through pics. I'm stealing the idea from mother-of-the-year Mandy Osborne. I frequently ask myself in parenting situations (WWMD- What would Mandy do?) and it just so happens she'd scrapbook the year in photos ... Great idea Mandy, here goes:
JANUARY
We started out the year with a BANG finding out dun ta da dunnnn ... our foursome was becoming a party of five. I fell into my usual nausea-fest for the next several months and January especially wasn't very eventful. Since duck season was still underway, we spent most weekends at Mom's since we are all hunting widows, and it's always more fun to be together.
This was one of my favorite pictures that month ... I love having sisters that love to love on my babies. This was one of our girly,husband-free weekends at Dede's.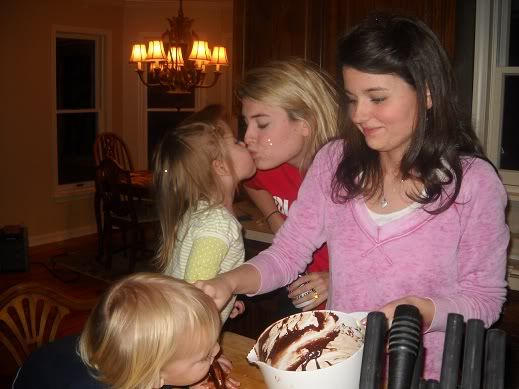 FEBRUARY
The first few months of the year are such a blur ... I stayed so nauseated with my pregnancy, but I'm SO thankful for everyone in my family and my in-laws who go above and beyond for us! We had some snow this year and this is a pic of Av and Dalton sledding with their Uncle Emerson whom they love to pieces.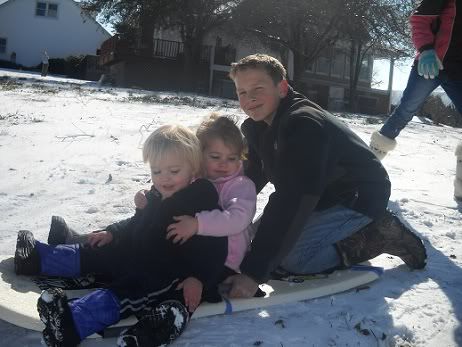 MARCH
We finally started getting out of the house a little in March and the kiddos LOVED this park in Bryant. I'm so glad they have each other to play with and keep each other entertained ... they really are best friends!
APRIL
Easter fell in early April this year, and every Holiday is getting more fun and more special as Avery and Dalton get older each year!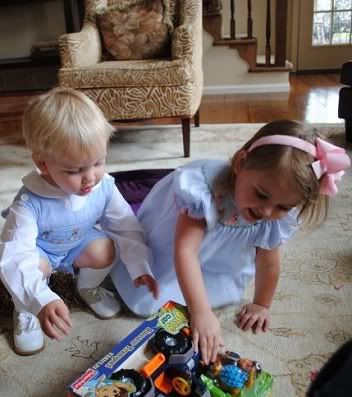 We also found out in April that Sawyer was a B-O-Y and had so much fun picking a name and preparing for another little rough and rowdy boy in our house.
MAY
I still can't even believe it, but Avery celebrated her third birthday in May. The kiddos were having a double party in June so we did some of Avery's favorite things on her actual b-day like waking up and heading out for donuts, meeting friends at Chuck E. Cheese, and eating dinner at her fav ... IHOP ... only the best for our kids. ;)
May also kicked off the LAKE which we look forward to every year! The kids begged to go all summer- they love it as much as me! This year Mom and Dad rented a condo for June and July and it was so nice to come and go ... already counting down until Memorial Day so we can do it all again!
JUNE
In June my sweet baby boy turned 2 ... sniff, sniff! We had their birthday parties together at The Wonder Place which was really fun! This is not a great pic of any of us,but Glory Hallelujah we're all 4 in the same shot!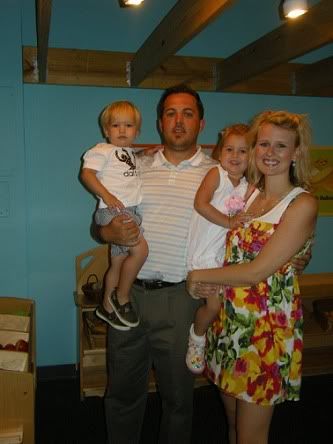 June was FULL of pool days! We pretty much woke up, packed lunches, threw on our swimsuits and headed to the pool every day in June ... loved it so! It was such an easy way to entertain them while getting to lounge in a chair with my feet up. Super nice.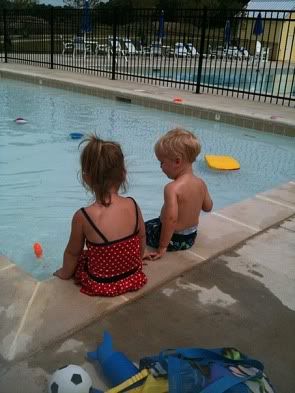 JULY
It was a HOT July to be preggo ... even at the pool. We spent almost every weekend at the lake and even some times during the week ... one of my fav summers ever.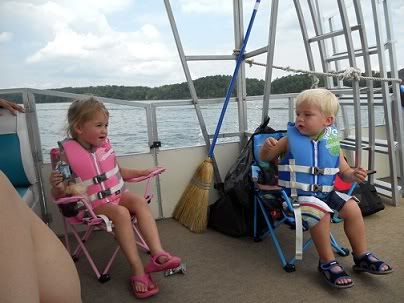 AUGUST
OBVIOUSLY our biggest news in August was the birth of our precious lamby on August 26. But, a BIG event was Avery and Dalton starting Mothers Day Out twice a week ... which we call "school." I cried and sobbed and blubbered in the parking lot for 30 minutes the first day I dropped them off. But it has turned out to be THE biggest blessing Aaron has ever given me.
This is a pic of their first day. I couldn't not put a pic on here ...
AND THEN!!!!!!!!!!!!!!!!!!! Sawyer McKinnon Boone was born August 26, 2010! He was 7 lbs 12 oz and 20.5 inches long. He is just the happiest, sweetest, most delightfully darling blessing in the whole wide world and I have been just giddy over his sweet self since minute 1. Love.
SEPTEMBER
September was quite a low key month. My recovery was a little harder with Sawyer and with the other twodemanding so much attention, I just didn't have energy to do anything but take care of them. I was SO blessed by friends and family who delivered meals 3 times a week for all of September and most of October. I was so spoiled. This is just a shot from my phone but kinda sums up the month as a whole. :)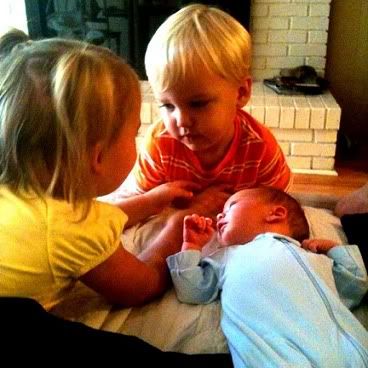 OCTOBER
We were just settling into a routine and enjoying home life in October. I was so blessed to have MDO twice a week, my bible study one morning a week, my mom help me one day a week and my sister help me one day a week. It's all hands on deck over here. We did a lot of fun fall things, spent lots of time outside visiting pumpkin patches, parks, and lots of playtime with their Daddy.
Halloween fell in October and Avery was Snow White, Dalton was a Knight, and Sawyer was a frog. With three kids picture-taking is quite crazy if you're trying to get all three to smile. So here are Avery and Dalton at my mother-in-law's church festival. Too cute.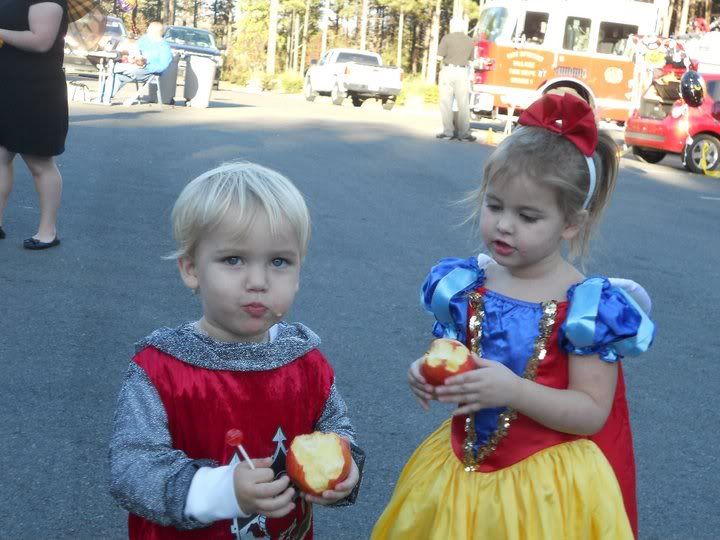 NOVEMBER
November was a very fun and memorable month. We had planned a girls trip to NYC early in the year but after much deliberation I decided to not go because of baby Sawyer. HOWEVER, when my sister Rachel's boyfriend decided to fly up to NY and propose I couldn't miss out. We hurriedly made all the secret arrangements a couple weeks before they left. My Aunt Tamra was going to keep the baby, but came down with a terrible virus several days before we left so Sawyer ended up tagging along and did wonderfully! It was the most fun ever and we're already planning our trip to go back next year!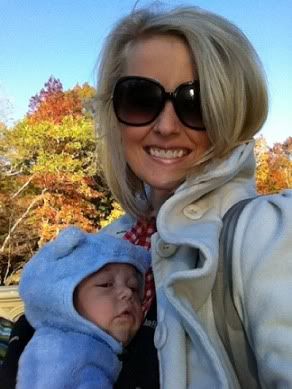 Me and Sawyer in Central Park!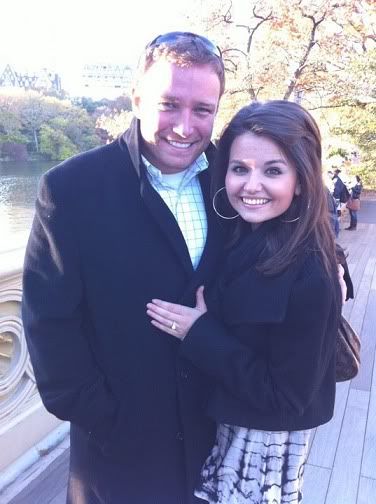 Rach and Ben right after getting engaged on the Bow Bridge!
Thanksgiving was wonderful too! It was so fun to talk to the kiddos all about Thanksgiving and have little feasts for our playdates and start off the Holiday season.
DECEMBER
Christmas time is always so special but with little ones it is seriously the most. fun. ever. We had lots of parties, playdates, and plans this year and we loved every one. Some highlights were school Christmas parties, meeting Santa to give him their lists, Garvan Gardens Christmas lights and even a carriage ride around downtown Hot Springs. It was a very, Merry Christmas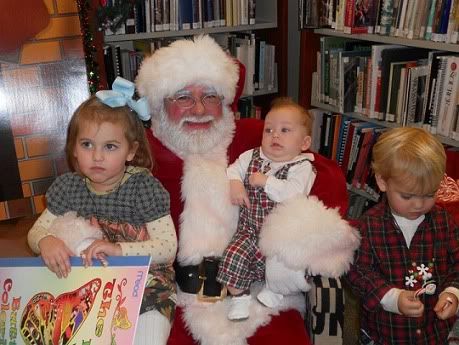 2011
This next year I am praying for a lot of peace and patience with the busyness of all these little ones. I'm hoping to be much more focused on some bible studies and less time on on-line shopping. I'm beyond THRILLED to see my sister get married in March. (I'm also nudging my already married sister to make me an Aunt ... I hope she takes the bait. )
Happpppyyy New Year!!!