This week hasn't been very funny. Or fun. Or forgettable. It's really just been b.a.d. Am I starting to sound like a broken record? It's just not a good time over here right now. All the kids are "ailin'," (Avery: poison ivy; Dalton: Bronchitis; Sawyer: Ear infection + allergies + beginnings of bronchitis + imboundanddeterminedtogivemymommagrayhairat25), Aaron and I barely get to talk, all three kids have woken up with plans to destroy me at 3am for 4 out of the last 5 nights ... I'm kinda understanding why moms run away from home. Just keepin' it real.
BUT, I'm going to keep reading my Bible (or licking it or something so I can get the words in me, bc I don't even have time to sit down and read it) and I'm going to try to keep breathing ... And other things to get me through these impossible days!!!!! Aghhhhh!!!
I did write down a few cute happenings this week ... Here ya go:
-Every time Dalton takes a bite of something yummy this week he says, "Mmm ... Momma, that's my Fay-Wit (favorite)"
-The other night Avery and I were laying down in her bed and she started saying her prayers and in the middle broke into, "God is great, God is good, let us thank Him for ... " then she looked up at me and said, "wait, is that just for food? I think I should start over."
-We went to my mom's house to play Monday and their dog , Russell had just gotten a haircut ...
He's a wire-haired Jack Russell Terrier that usually has long wirey hair, but when they cut it his skin is exposed and you see he is all speckled! When Russell got home from the vet I said, "Look Dalton, Russell got a haircut! What's all over him?" He screamed, "Sprinkles!!!!"
-Avery has started finishing every question with, "or what?" examples:
A: "Are you gonna take me to Sonic, or what?"
A: "Are you gonna make Sawyer stop screaming, or what?"
A: "Are you gonna spank Dalton, or what?"
-This is probably TMI ... But oh well. The other night D was in the bath tub and I had to tinkle ... So being in the bathroom I went ahead and went. D jumped up and started clapping, "Yay Mommy!!" Bahahaha
I'll end with some pics from this week. They're wild, crazy, and driving me nuts- but at least they're cute.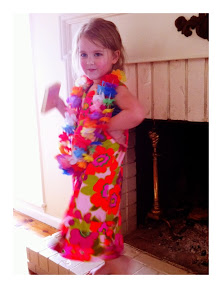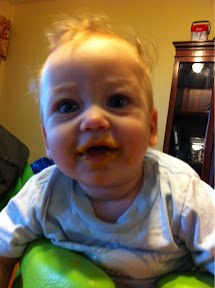 Tomorrow, I'm bound and determined to write a wedding post from Rachy and Ben's big day! Here's their 15 seconds of fame from the High Profile section of the Arkansas Democrat Gazette. It was such a fun weekend!!
I think tonight I'm going to make some comfort food ... and a bottle, I mean a glass of wine. I'm going to do some grilled cheese fancy schmancy sandwiches and
The Pioneer Woman's Sherried Tomato Soup
... Have you had it?? Because it's dee-wish-uss!
- Posted using BlogPress from my iPhone