Happy Post... Because I needed to change it up a little. I have gotten wayyy too much love after my last post and in case anyone was worried I was planning on packing my bags I wanted to clear the air. ;)
So to do that ... I give you a lunch of Taco Bueno.
Last night we spent the night with my mom because she loves me and said she would keep all my little chickens while I went to my bible study brunch this morning. It was a great morning and I loved my little break for a couple hours. I came back to her house, packed up my crew and started the longer-than-I-would-like trek back to Bryant.
Of COURSE Avery and Dalton fell asleep and since they had already had lunch I spent the 30 minute drive deciding where I would run through to get something for myself. I decided Taco Bueno. Because I'm in to healthy. Fat free. Organic cuisine. Obviously.
I brought in all three babies to put them night night and settled in to catch up on the last episode of Parenthood. It didn't take long before my kids sniffed out my food and came in to pile on the couch with me. For some reason I thought it was beyond cute. So, I snapped a pic. Here they are. Eating their veggies ... Or tacos and muchachos. :)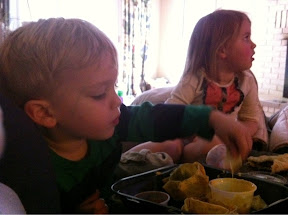 See, I like them. :)
- Posted using BlogPress from my iPhone