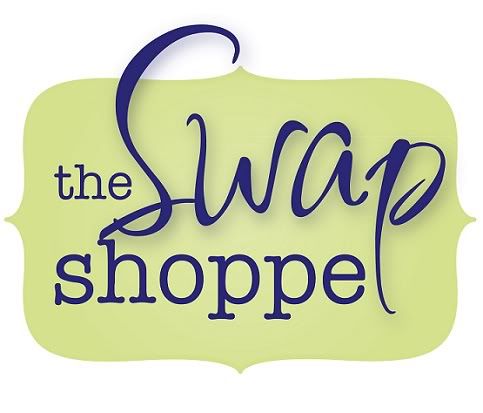 I am super pumped about my new business "venture" with my sweet friend, Mandy. We are mildly obsessed with children's clothes and came up with the idea of an on-line children's boutique on Facebook. You can check out our page by clicking on the "MY BUSINESS" tab or better yet, just click ... HERE!! If anyone is interested in consigning you can e-mail us at theswapshoppe@gmail.com I am SO excited because we are launching it tonight!
BTW, I'm all about giving credit where credit is due and the logo was designed by the lovely Dayle, and Lindsey, who also designed my Blog (Hip Hip Hooray!) made us a blog button! Feel free to post it on your blog! Hint, hint! ;)

Here's the deets!

About Us
We are a couple of mommas who LOVE to dress our kids in adorable boutique and designer clothing, but we also LOVE to find a good deal. And on top of that, we don't exactly love the crowds at local consignment sales—so, basically, we want it all! After successfully selling some of our kids' adorable but outgrown clothing through Facebook, it hit us that we can have it all--and you can, too!

If you want to clean out your closets and part with your kids' outgrown clothes, but, like us, the hard work of pricing & tagging everything and then fighting the crowds at consignment sales doesn't appeal to you, then The Swap Shoppe is the perfect answer! We'll do all the work for you and offer your kids' gently worn clothing for sale to our hundreds—or, potentially, thousands!—of followers. Check out the "how it works" section to learn more about the process.

Of course, if you aren't interested in selling but are all about finding a good deal, we're still the perfect answer! Browse our listings of stylish, gently worn clothing to find the perfect outfit for your precious little ones. We focus mainly on boutique brands and designers, including Ralph Lauren, Gap, Mini Boden, and all of your smocked favorites; but we also include selections from less expensive brands such as Old Navy and even Target. After all, cute is cute, no matter where it came from!

How It Works
Our process is simple. Here's a little breakdown of the process for both sellers and buyers:

Selling
Selling your kids' outgrown clothes through The Swap Shoppe couldn't be easier. Basically, you bring us the clothes and we do the rest! In the beginning, we will accept 5 sellers per week and 10-30 items per seller. Drop-off is on Mondays by appointment, and we spend the week sorting through your clothes, pricing them, and taking pictures. The following Monday the items will be posted for sale on our page. We post new items every Monday night at 7:30, and your items will remain on the page until they sell, or for 4 weeks total. After 4 weeks, we will contact you about your unsold items and you can choose whether to pick them up or have us donate them. After the 4-week time period, we mail you a check for 70% of your sales. We also take care of delivery to buyers or shipping the clothing to buyers outside of Central Arkansas. See, you barely have to lift a finger!

Unlike consignment stores and sales, we don't care about seasons. If you prefer to get rid of things at the end of the season to keep your closets de-cluttered, go for it! But if you think you'll have better luck selling it when the season rolls around again, that's fine too!

Unfortunately, we can only accept Central Arkansas consignors at this time—but stay tuned, because this may soon change!

Buying
Finding cute children's clothes at great prices has never been easier! New items are posted on our page every Monday night at 7:30. All new items can be found in the "New This Week" folder. You definitely want to check the page as soon as we post them because, trust us, this cuteness will go fast! The caption on each picture will tell you the brand, size, and price, plus any additional information you may need. To purchase an item, simply leave a comment saying "sold" with your email address, so we can get in touch with you about picking up your purchases. After Monday night, all unsold items will be moved to a folder based on the gender and size, and you can browse these folders any time. The Swap Shoppe is open at any time of the day or night!

Central Arkansas customers can pick up their items the following Monday at designated times, and payment must be received at the time of pick-up. Don't worry, you don't have to live in Central Arkansas to buy from us! Simply mail us a check for your purchases, and once we receive payment your items will ship. We ship purchases to out-of-town buyers on Wednesdays or Thursdays each week, and can provide you with our shipping rates as requested.